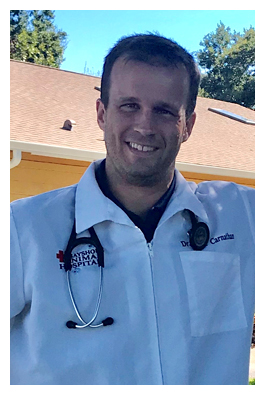 Dr. Brent Carnathan
Owner and practicing veterinarian at Bayshore Animal Hospital, Dr. Carnathan knew that he wanted to work with animals ever since growing up on a farm with countless animals, and being inspired by the veterinarians in his life. When he's not helping animals here at Bayshore, Dr. Carnathan - a graduate of the Mississippi State University College of Veterinary Medicine - enjoys camping, kayaking, fishing and going to GraceLife Church with his family. In addition to his wife Abby and their five children, Dr. Carnthan's family includes Cowgirl, an Australian Shepherd, two cats named Amtrak and Sunny, a pony, five chickens, a hamster and six fish! But he says there's always room for more.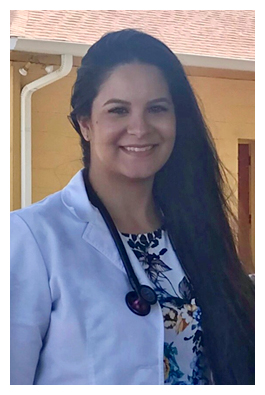 Dr. Sully Mohan
Dr. Mohan has been helping animals long before she obtained her DVM from the LSU School of Veterinary Medicine—in fact, she would often take care of homeless and injured animals she found while growing up in Puerto Rico! With her husband Mat, she has a furry family of rescued animals: Zoom, an energetic, belly rub-loving Daschund; Peril, a laidback cattle-dog mix who loves looking for crabs at the beach; and Muffin, a feisty calico kitty who loves yarn and hand knits. Dr. Mohan looks forward to meeting your pets—and loving them like she loves her own!


Dr. Anna Raevsky
Dr. Raevsky has embraced her passion for animals in a variety of ways—from studying alligator reproduction at Gatorland Zoo as part of her studies at the University of Florida College of Veterinary Medicine, to lecturing on emergency veterinary medicine at the Moscow Zoological Park in Russia. Since 2006, she has worked in the Port Orange Area, and lives with her husband, three children, three dogs and one cat in nearby New Smyrna Beach. As the owner and practicing veterinarian of Dr. Rae's Veterinary Housecalls, Dr. Raevsky is able to provide quality care in the comfort of her patients' homes, in addition to working with Bayshore Animal Hospital.