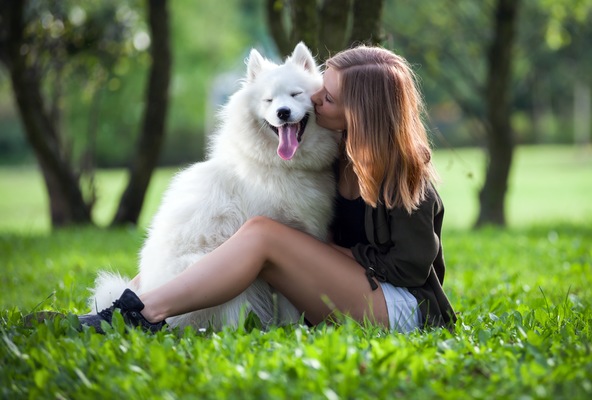 Unfortunately, many pet owners do not spend enough quality time with their furry friends. Dogs are social creatures with copious amounts of energy, and it is extremely important for them to not only spend time outdoors but to also get intimate interactions with their owners and other canine companions. Rather than letting your dog spend too much of its time sleeping, eating, and being crammed indoors, try these 6 exciting ways to spend time outside with your pet!
Get Some Exercise Together
Dogs need to stay in shape just like humans do! After staying inside for extended periods of time, dogs typically store up a surplus of energy that requires a healthy outlet. Depending on your dog's breed and age, going for a jog or a simple walk can be a fun activity for you both to enjoy together! It can even be as simple as tossing a stick in the backyard for an engaging game of fetch. Getting regular outdoor exercise will keep your dog healthy and they will need fewer trips to their Ormond Beach vet throughout their life.
Stop by Your Favorite Dog Park
Dogs are social creatures, and they benefit from healthy interactions with other humans and fellow pets alike. There is often a long list of dog parks to visit in many cities so grab your leash and head over with your favorite hangout spot! Dog parks are an excellent opportunity for your canine companion to meet and play with other pets, allowing them all to get out all that energy they keep bundled up.
Arrange a Play Date for Your Dog
Despite their social nature, we all know that some dogs don't always get along in the best of ways. However, if you already know of another dog that your pet shares a friendly relationship with, invite them over for a play date! Pets can get lonely when they lack a friend to play with, so we encourage canine networking as often as possible.
Make Music Together
Many dogs are entranced when their beloved owner plays an instrument – some may even try to howl along! Even if your pet is simply wagging their tail as you play, it means they are having a good time. If you don't know how to play any instruments, that's okay! Simply put on your favorite tunes and jam out with your one-dog audience.
Roll the Windows Down
Car rides are beloved by so many dogs because they enjoy the exposure to an oversaturation of new sights, sounds, and smells. Plus, who doesn't love a little wind in their hair? Hop in the car with your dog and roll the windows down, then take them with you to your next shopping destination or bring them along for a drive simply for the sake of a small road trip.
Let Dogs be Dogs
At the end of each day, your dog will always be a dog. No matter how many "human" activities you treat them to, they will always find excitement in the little things. Let your dog run free around the yard, roll around in the dirt, and bark at other pets or passersby – it is a highly effective way for them to expend all that canine energy! Be sure to always keep an eye on them throughout all their antics.
Dogs are excellent companions and every bit of maintenance that they require is worth the unconditional love and excitement that they give back. Every dog will always consider their owner as their best friend - we owe it to them to give them the best possible care.
Whenever you need any professional assistance taking care of your pup, rely on our professional team of veterinarians at Bayshore Animal Hospital to provide your dog with the amount of attention and care that they deserve! Since 1982, we have served our pets the way we would want to be served, making us your go-to Ormond Beach FL veterinarians. Contact us today for all your pet health needs!