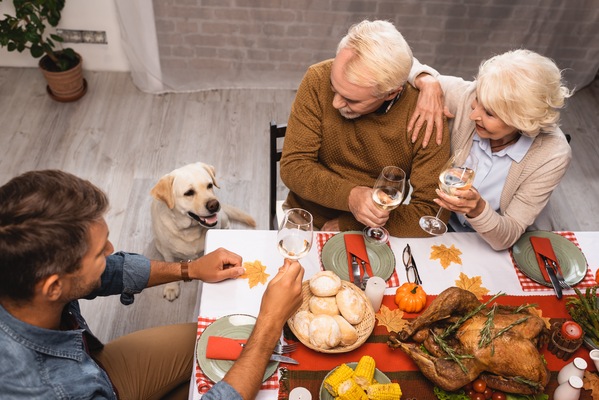 Whether you are planning to cook up a storm for a Thanksgiving feast or traveling to be with your loved ones for Christmas and New Year celebrations, there is no doubt that your pet's safety and good health is also being considered as the holiday season approaches.
Here are some precautions to take for a smooth, fun, and pet-friendly holiday.
Food Dangers
As delicious as your Thanksgiving feast might be, it could pose some potential threats for your pet. Food items such as turkey skin can cause a life-threatening condition in animals called pancreatitis while seasoning used to cook these meals can bother their stomach. Uncooked dough or cookie/cake batter can also lead to painful bloating or food poisoning. Be careful when disposing turkey carcasses and small bones as these can be hazardous for your pet as well.
Visitors
If you're expecting lots of guests, your pet may get stressed out and aggravated by the new faces and higher noise levels. Keep your beloved animals calm by putting them in a separate room with their favorite toys, treats, and a cozy blanket, so that the hustle bustle at home doesn't bother them.
Holiday Decor
Lit up candles are a part of every household's seasonal décor, but you want to make sure you place them keeping your pet in mind. An excited pet jumping around a lit candle indoors or any sharp and delicate items can have some dangerous outcomes!
Traveling
If you're traveling with your pet, make sure to get a health certificate from your Ormond Beach vet. Their collar ID must have up-to-date information, in case they get lost. Safely restrain your pet to prevent distractions for the driver and never leave them alone in a vehicle.
For any questions or advice, turn to Bayshore Animal Hospital, your go-to Ormond Beach veterinary care. We're here to help your pet stay safe and healthy around the year, especially during this upcoming holiday season!