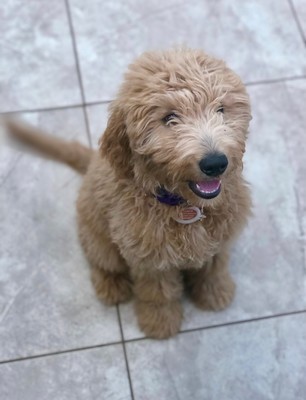 Once you've found the perfect vet in Port Orange or Ormond Beach, you may be wondering how to encourage your furry friend to be calm and happy on your next visit! It's a common question for pet parents, and fortunately, there are many things you can do to help. Just read on for a few of our favorite tips.
Lead by example
One of the best ways to ensure that your furry pal feels as relaxed as possible at the vet or groomer's starts with you! Lead by example to show your pet that there is no reason to be anxious. Even though your dog or cat may not be able to understand your words, exactly, they are expert communicators when it comes to understanding body language. As pet parents, it's our natural tendency to want to cuddle and comfort our pets when we feel that they may be nervous, or that they may be nervous soon! We completely understand this line of thinking. However, it may inadvertently make your pet feel more nervous, as they can pick up on the "don't worry" cues coming from you and wonder what's going on. Instead, treat your pet normally as they prepare for a visit to somewhere new—just like you would pet or talk to them as you might as you relax at home or on a walk! By focusing on keeping yourself relaxed and confident, you'll likely find that your furry friend follows suit.
Spend more time in the car
If your pet only associates the car with trips to unfamiliar places, it may be time to change that! Whether it's to the park or a friend's house your pet loves, these trips can condition your pet to feel more comfortable with the process of leaving the home and spending the day in a different environment.
Make it a sweet adventure
A tasty treat can make your pet feel calm and happy—and most importantly, it teaches them to associate good things with trips to the vet or groomer! (Tip: There are even natural calming snacks you can consider for your pet! Unlike sedatives, they are made to deliver a natural ingredient-derived sense of relaxation. Just be sure to check with your pet's doctor first to see if they have any guidelines or recommendations.)
Pick a vet that puts your pet first
When it comes to keeping your pet calm and happy at the vet, choosing the right doctor can make all the difference! Choose a setting that's warm, homey and welcoming, and a doctor who knows how to treat your furry friend in a calm, compassionate way. These are the goals we strive to achieve every day at Bayshore Animal Hospital. We'll be happy to answer any questions you may have—as we mentioned earlier, a relaxed human makes for a relaxed pet! –and can even show you and your pet around the office to help you both feel right at home.
We love pets, and can't wait to meet yours! Just call us to schedule a friendly visit today.