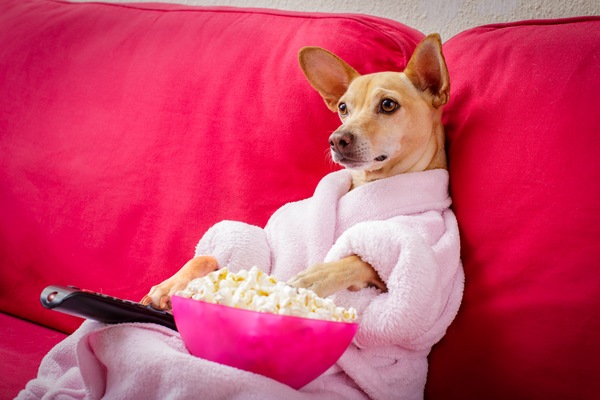 They say watching movies is one comfort that never changes, no matter what happens. During moments of uncertainty, sometimes you just have to take a break and lose yourself in a great film. You might laugh, cry, get a new perspective, or simply enjoy a unique bonding experience with friends and family members, including the four-legged variety. In fact, in some locations across the country, pop-up cinemas allow you to watch movies on the big screen, while you have snacks with your pets.
At a moment where walks, trips to pet parks, and other ideas may have been exhausted, it's nice to know that there are other options to have fun and spend time with your favorite animals. Even when you're not able to get to a movie theatre or just don't feel like going out, there are plenty of selections that are focused on and/or feature pets. Here are some of the most popular:
1) Traditional Picks
You might have a few favorite pet movies that you love to watch again and again. Some of the most popular picks include Babe, Air Bud, Black Beauty, Free Willy, Seabiscuit, Marley & Me, and similar. Or, you could go a light and fun route and select films like The Lion King, March of the Penguins, Beethoven, or Happy Feet, among others.
Keep in mind that when your pet needs veterinary care, Bayshore Animal Hospital is always here. Surgery and hospitalization are both available services, should you need them.
2) Streaming Favorites
There's nothing quite like snuggling up on the couch with snacks (for both people and pets) and getting ready to watch a fun film via the streaming service of your choice. Some best bets include Charlotte's Web, Second Chances, Dolphin Tale, and similar. Or, you might prefer a documentary style program about how certain animals live and interact.
3) Holiday Themed
No matter the season, it's always enjoyable to watch movies set in your favorite time of the year. So, you could check out The Secret Life of Pets, Homeward Bound, Benji, Zootopia, or Hotel for Dogs.
When lounging time is over and it's time for a checkup, remember there's a local veterinarian who always keeps the best interests of your pet at heart. From routine preventative care to medication, ultrasounds, and more, it's possible to get total care for your dogs and cats.
4) Newer Selections
Some of the mentioned films have now been made into sequels. Other recent movies include The Queen's Corgi, A Dog's Way Home, The Biggest Little Farm, and more. You could even take a memorable trip back into the past with remakes of classics such as Lady and the Tramp.
For nearly 40 decades, Bayshore Animal Hospital has been here for you and your pets' needs. Through both good times and uncertain situations, our friendly and qualified staff always provide the very best care possible for your furry friends. We're a full-service animal hospital and clinic for both dogs and cats. Plus, with two Volusia County locations to serve you in Port Orange and Ormond Beach, you're never too far from a veterinarian who loves animals just as much as you do. Contact us today to learn how you can start giving your pets the care attention they deserve.