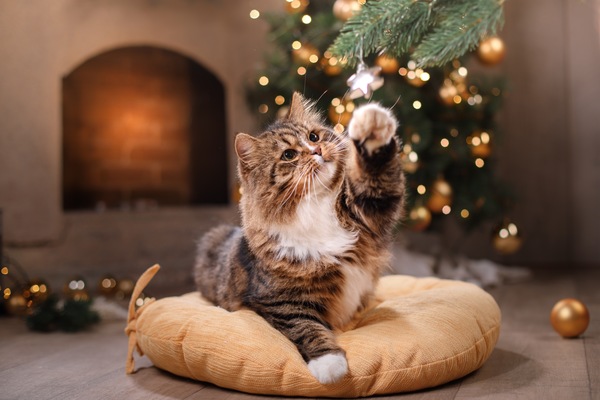 While making your list of gifts for all your family members this holiday season, don't forget to keep a spot for your beloved pet who deserves some special attention too. A pet has the ability to make your days brighter and your home happier and during this special time of the year, you should show them just how much you care by surprising them with their very own holiday gift!
Here are a few ideas that you could treat your beloved pets to this holiday season:
Toys for your furry friends
Whether you own a dog or a cat, chances are they will thoroughly enjoy a new toy that can keep them entertained during the holidays. Pick a squeaky or crinkly toy that your dog can have fun chewing or throwing about or perhaps a new frisbee or ball to make playing fetch more thrilling to them. Your cat would also appreciate a new toy that jingles or rattles and can be rolled around in their favorite spots.
A personalized collar
It's always a good idea to freshen up your dog or cat's collar with something brighter or more fitting for their personality. Make it even more special this holiday season by personalizing it with having their name embroidered on it.
Boredom busters for your bird
Just like other pets, your bird needs mental stimulation as well. They are just as likely to get bored as dogs and cats when they don't have company or attention. Luckily, there are lots of toys available for them as well which are perfectly safe and non-toxic to be placed in their cage. A colorful new ladder, a wooden playground, a perch swing or rainbow-colored bridge – so many attractive gifts that will keep your bird busy and entertained while you aren't around.
Everyone loves treats!
Treats are always a welcome idea to get your pets excited and their tails wagging! Order a new variety that you've been meaning to try out or get a large sized treat that they can chew on for days ahead. Pick a new flavor, shape or texture and see how they react and if they gobble it down, you know you've got a new favorite treat to stock up on for your pet. Many pet food companies also create gift boxes with small variety packs and pouches in a cute little dish or gift box – perhaps worth considering this Holiday season?
Treat dispensers
Puzzle feeders and treat dispensers can make getting a treat so much more interactive and fun for your pets. Have them work a little to get their treat through a little challenge and fun – just make sure they don't get too frustrated in the process!
If you want to know more about what toys and products are safe and healthy for your pets and how to keep them happy and engaged this Holiday season and beyond, talk to your trusted Ormond Beach vet at Bayshore Animal Hospital. We know how much your beloved pets mean to you and are always available to help make sure they are healthy and thriving!